Guesthouse with a Musical Note
Jagniątkowa Koliba
Cabaret and wine
A unique experience in the mountains
Our Guesthouse, Jagniątkowa Koliba, is located in magical Jagniątków, nestled into the Karkonosze mountains. Jagniątkowa Koliba has a distinct atmosphere, where you can find respite from the hustle and bustle of daily life, where we serve Jazz (and more) for dinner, where you can recuperate by the warmth of the hearth and the smell of burning wood.
Pamiętając o naszych gościach przygotowujemy specjalne wydarzenia i oferty by zapewnić szeroki wachlarz możliwości wyboru.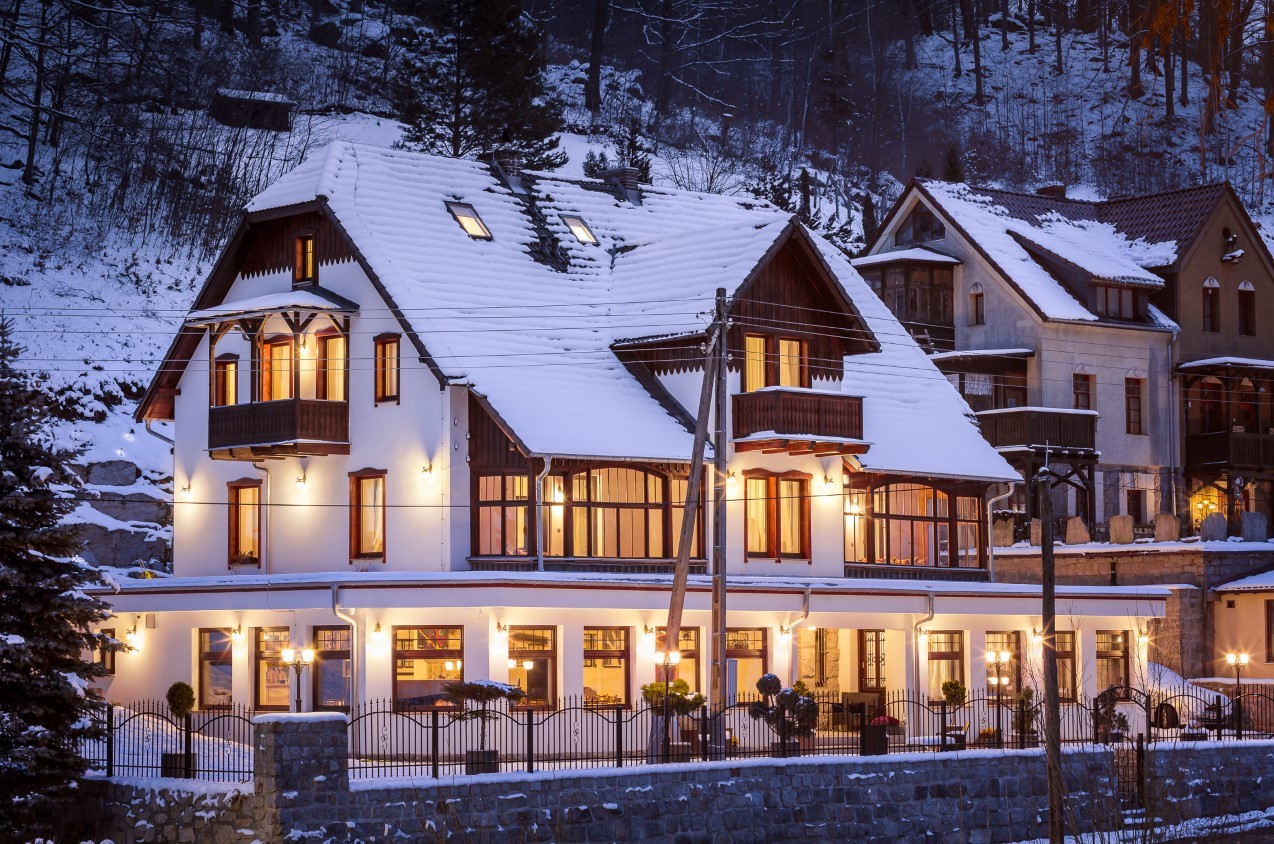 DISCOVER OUR

APARTMENTS AND ROOMS
Elegance, simplicity and comfort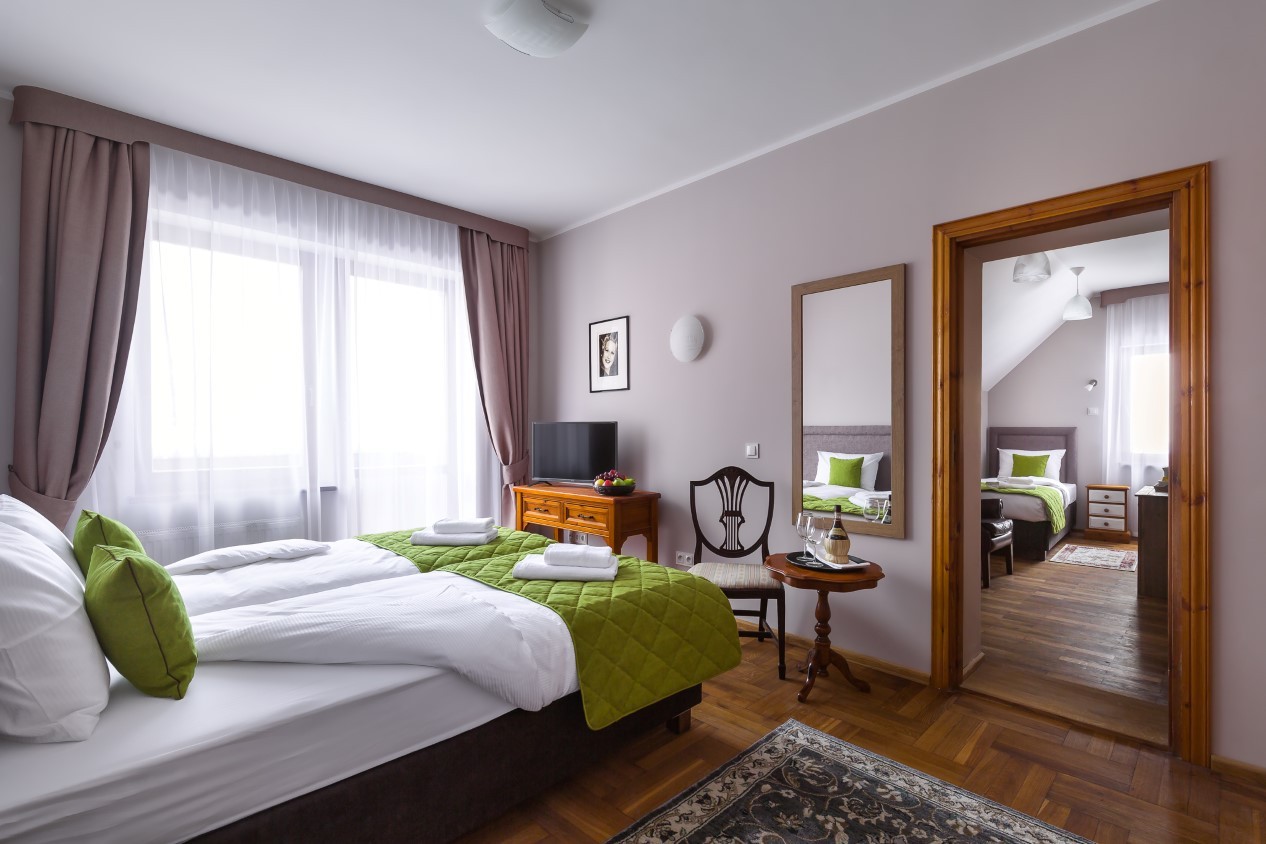 Unforgettable leisure
We have 2-person rooms, as well as 3 and 4-person apartments.
Each room has an in-suite bathroom.

Each room has a kettle and tea.

Our speciality is a traditional English breakfast (included in price).
Price per room
Prices from 155 PLN per night.
ENGLISH BREAKFAST
WE SERVE THE FULL ENGLISH BREAKFAST EACH MORNING FOR OUR GUESTS.
English style breakfast
It is composed of fried eggs, bacon, baked tomatoes, butter fried mushrooms, served with two or three types of bread, butter, jams and honey. Of course, we can offer you an alternative if you like. Scrambled or poached eggs? Or maybe an omelette with cheddar cheese?
We are at your service
The breakfast includes a buffet with juices, fresh fruits, English tea and Cuban coffee. If you prefer Polish options, that's no problem. We can prepare a Polish style breakfast.
ratngs
Our guests opinions
Wspaniałe miejsce z niesamowitą atmosferą.
Wpadnijcie koniecznie wieczorem aby posiedzieć przy dobrej muzyce. Tłoczno – wspaniale! Właściciele na pewno znajdą dla Was miejsce 🙂
Rewelacyjni właściciele, super elastyczne podejście, np. do specyficznych potrzeb biegaczy 🙂 Fajna lokalizacja z bliskim wyjściem na szlaki..
Cudowne, klimatyczne miejsce, do którego z pewnością powrócimy. Klimatyczne miejsce, w którym można się poczuć jak w domu a to wszystko za sprawą wspaniałych gospodarzy i wypełniającej dom muzyki.
W pokojach czysto i ciepło, nie ma do czego się przyczepić. Polecam wszystkim szukającymy miejsca do wypoczynku.
10 dniowy pobyt w Kolibie dostarczył nam wspaniałych wrażeń i wspaniałego wypoczynku. Gospadarze stworzyli przyjemną rodzinną atmosferę
Spędziliśmy tu piękny czas w czasie Świat Wielkanocnych z cała rodzica. Stylowe i wygodne pokoje, klimatyczne lobby, pyszne jedziecie i najpyszniejsze wino 🙂
Nietypowe miejsce na mapie górskich miejsc noclegowych, ze świetnymi śniadaniami angielskimi (przygotowywanymi przez Anglika) i z przestronnymi, ciekawie urządzonymi pokojami. Właściciele wkładają serce w to, żeby każdy czuł się jak w domu. Na miejscu można domówić smaczne potrawy na obiad lub kolację. Obiekt posiada kilka stref, w których można wypocząć. Wszystkiego pilnuje czujny Nero 🙂 Pozdrawiamy całą jagniątkową ekipę!
VISIT JAGNIĄTKOWA KOLIBA
Spend your time pleasantly…